Aerial Yoga
This is our most fun and empowering workout! You will feel deeper stretches, spinal alignment with hanging inversions, and surprise yourself with a challenging workout. This class is a huge hit. You must reserve your space and there is usually a wait list!
Aerial Yoga Restorative
This is our gentle and therapeutic version of aerial yoga. The extra support of a silk hammock allows the body to completely soften, surrender, and invert effortlessly. Like classical restorative yoga, this class balances the elements of a slow-paced asana flow, pranayama, and powerful guided visualization enhancing awareness of the internal sensations present in the body. However, a levitated yoga practice reaches muscle groups that cannot be accessed on the mat, providing a deeper dimension into organic exploration in each pose while enhancing stretches and twists. Practicing while levitated also calms the nervous system and boosts the immune system.
Breathe and Flow Yoga
Breathe & Flow: A yoga flow class in which the breath guides the movement of the body. The mind becomes focused on the breath, as the body moves through a specific series of poses. Attention is placed on the journey of the movements and deep relaxation! All levels welcome!
Blissful Yoga
This class is a holistic approach to embodying the flow of yoga. Students are empowered to experience prana – the primary source of breath and consciousness – as the navigating source of their yoga practice. This class  incorporates breath tranquility, mindful flow sequences, static postures, meditation, deep relaxation, and compassionate guidance to weave a yogic journey accessible for all levels. All Levels and ages!
Deep Therapeutic Yoga
This class incorporates aspects from various yogic styles and philosophies to provide deep rest and relaxation for the mind, body and spirit. Class may include restorative poses, gentle asana, breathwork, meditation and relaxation. Therapeutic yoga classes are gentle and include yoga poses modified to individual's needs, gentle movement sequences to help improve the body's movement patterns, yogic breath techniques, and guided relaxation. Each class is structured to address a region or system of the body that may need balancing for better health and well being.
These classes are appropriate for individuals with musculoskeletal dis-ease or injury, neuromuscular issues, chronic pain, balance or movement deficits, anxiety or depression, respiratory issues, or other imbalances or dysfunctions that individuals may suffer.
This class will help to heal your body, mind, and spirit.
Every Body's Yoga
Want to give yourself a gift? Do Gentle Yoga.  Gentle yoga is the best kept secret of all yoga studios. You will move at a slow, steady pace making this class highly effective for any body type, body size, or personal pace.   Yoga postures (Asanas) are floor based using seated & reclined asanas and a few standing poses as the basis of every routine. If chairs are needed by some participants, they can easily be incorporated into any class.  Savasana (the relaxation phase) is guaranteed to be at least 10 minutes of the practice in order to bring the body to its ultimate goal: to completely relax and to let go of "stuff", therefore reducing anxiety and stress (cortisol) levels.  Gentle yoga is not synonymous with "easy" yoga; it is simply a really good way for all body types to effectively experience the Asanas with modifications wherever necessary. Your body knows what to do. Trust it.
Gentle Flow
Gentle Yoga uses the flow between poses to cultivate physical and emotional openings. It helps maintain flexibility and strength to prevent falls or fractures. Lung capacity is improved with yoga breathing exercises, and arthritis pain is reduced by gentle stretching.Moving through this gentle flow will allow students a chance to open their bodies and understand what is happening in their body, through movement.
Heart Flow Vinyasa Yoga

Heart Flow combines breath, body awareness, and both flowing and static movement with the intention to reconnect mind, emotions and body. Inspired by the fluidity of vinyasa, Heart Flow becomes a form of dance in which we interweave the Sun and the Moon energies with conscious breathing. The deeper intention of the practice is to awaken the compassionate energy and self-love within the heart.
Morning Yoga Flow
This class allows you to arrive and enjoy quiet stillness, warm up and energize the body, and leave class ready to enter the rest of your day with vitality and equanimity. Suitable for anyone looking for an uplifting, enlightening, dynamic flow experience.
Mindful Vinyasa Flow
This all levels Vinyasa Yoga class synchronizes breath with movement which helps the student develop a greater sense of self-awareness, balance, and harmony. This class will emphasize smoothly flowing movements guided by the breath. Each class is unique, combining detailed cueing of the postures with an exploration into the spirit of yoga. This class is appropriate for all levels of yoga students who have some experience with yoga. The instructor will offer modifications for level 1 students as well as more challenging poses for advanced students.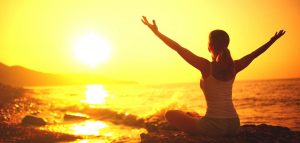 Rise and Shine Yoga 
This class will flow slowly through sun salutations and postures designed to build internal heat slowly and gently. Meditation and Pranaymana (breath work) techniques are taught to promote relaxation. Class concludes with yoga postures which settle the body and mind. All levels and ages.
Hatha Yoga For Health, Peace, and Spiritual Awakening
Yoga means union. It is an ancient spiritual science that moves us towards harmony and love within ourselves and with one another.
The class is a foundation to begin, keep up or enhance the practice of Yoga at any stage and age. This Hatha Yoga Routine follows the classical system taught by Swami Sivananda of Rishikesh. It is an experiential class that aims to integrate body, mind and feelings while encouraging a healthy way of living. We hope it helps you to deal with the stress and challenges of your daily lives by facing them from an spiritual perspective.
This class incorporates all aspects of a traditional Hatha yoga class – breath, meditation and postures – while challenging your co-ordination through movement.
Soul Flow Yoga
Journey into the rhythm of your soul. All levels come together to practice collectively yet at our own individual levels with modifications and amplifications for everyone.  Explore beyond asana into awareness. Learn to expand that space you feel on the mat into every aspect of your life off of it. This class incorporate philosophy, mudras, breath awareness, poses, meditation, visualization, essential oils, friendship, and more.
Vinyasa to Reboot, Recharge & Reenergize
This class is designed simply to reconnect you to your breath, clear your mind and reenergize you. Try this instead of a cup of coffee or sugar if you need a little brain break. Hit pause on the obligations of your day and step onto your mat for this short midday reset. This class will loosen up your whole body and give you a chance to feel more and think less.
Yin Yoga Rejuvenating
Find Your Inner Zen! If you want to calm and balance your body and mind, this is where you'll find your zen. Yin yoga poses are held for 3 -5 minutes at a time. This meditative practice is designed to target your deeper connective tissues or fascia, restoring length and elasticity. We'll use props so your body can release into the posture instead of actively flexing or engaging the muscles. Like meditation, it may make you feel antsy at first, but stick with it for a few classes and its restorative powers might have you hooked. People who need to stretch and unwind will enjoy Yin yoga.
Sound Healing Relaxation
Relax with a sound of crystal singing bowls. Tt's like a vibrational massage or deep meditation. Sound Healing Relaxation offers a number of health benefits, including decreased anxiety and depression, pain reduction, sleep, energy balance, and "overall awakening". During the sound healing, you will shift to a subconscious state where they can really release stress and relax.
Aerial Kids & Teen Yoga
Uplift the kid or teen in your world with a class that will take their mind and body to new heights! Is your child a climber or a ball of energy? Allow them to put their creative energy to good use at an aerial yoga for kids' class at Yoga Toka. Aerial yoga features the use of silks suspended from the ceiling to give your child the feeling of safe & weightless flight. Participation in an aerial yoga class has many benefits for children of all ages, from the development of social skills to neurological & developmental benefits.
Class curriculum is especially beneficial for students that want to learn more about yoga or mindfulness, improve attention, strengthen motor coordination, improve sensory processing, stress-management, and most importantly, have FUN!
Kids & Family Yoga
Fun and interactive yoga classes designed to promote joy in movement, physical explorations, self-expression, and self-confidence. Each week's class focus on a different theme encouraging students to use their imagination and visualization. Every yoga class incorporates yoga poses, stories, games, songs, movement, and stretching to support the development of strength, flexibility, balance, and social competence. During yoga classes, kids also learn math, reading, science, nature, and much more. Our yoga program helps children develop emotional intelligence, communication skills, and empathy and it nurtures teamwork as well as leadership.
Teen Yoga
An excellent way to help your child deal with the overwhelming emotional and physical changes that she goes through during adolescence. Teenagers who practice yoga are less stressed and perform better than their counterparts in academics. Teenagers often have a poor body image and are ever trying to change their appearance to fit in. Yoga promotes self-awareness and acceptance, which helps teenagers overcome poor self-image. Teenagers carry heavy backpacks often have a 'hunched over' posture when they sit or stand. Yoga poses help you maintain an upright posture, which strengthens the spine. The breathing exercises in yoga improve concentration. Yoga teaches teen how to use their breath to stay focused on the task at hand.
Adapted Yoga for Individuals with Special Needs
Individuals with special needs and any disabilities learn yoga poses, breathing techniques, color therapy, self-massage, positive self-talk therapy, and mindful relaxation techniques in safe, empowering, and joyful environment free of judgment and expectations. In-depth guidance and modifications for all poses to enhance flexibility, posture, and strength with the goal of giving every individual the venue to experience the deeper meaning of yoga practices while empowering participants to love themselves unconditionally for who they really Participants are encouraged to have a caregiver but not required.